Two wins in as many weeks for Sharpe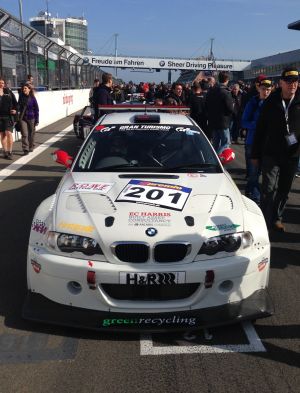 Adam Sharpe was back at the Nurburgring for Round 8 of the VLN series with Team Green Recycling and local sponsors Notaro Care Homes. As Friday evening testing went to plan, Adam undertook the race qualification on Saturday morning to put in the team's time. With only a two lap run scheduled for Adam it was crucial he made the most of the fresh cold air and new Dunlop slicks. The circuit was incredibly cold and even the top running factory-backed GT3 cars were finding it hard to gain traction on the opening lap. Adam worked hard to create and then retain tyre temperature but managed to set a good lap time on his first flying lap. With more and more cars entering the circuit, Adam had to battle his way through traffic for his second flying lap. As he crossed the line, the team finally saw a sub-9 minute lap on the VLN circuit layout - 8:59.3 and pole position for the race. "We'd been aiming for a sub-9 minute lap for some time now, however with traffic and weather in the last few rounds, we hadn't been able to prove the car was quick enough. Now we are really pushing on and making the BMW M3 work well throughout the 23 km circuit," commented Sharpe.
Rob Smith started the 4 hour race from pole position in Class. Rob had a great opening stint and displayed some personal best Nurburgring lap times. Rob handed the car to Adam for the middle stint of the race. Adam then completed a faultless 1 hour 20 minute stint and was able to match the sub-9 minute qualifying lap time, too, in race conditions. "I was asked to back off the pace a little to save tyres and fuel. It's very hard to hit an exact lap time at the Nurburgring so I simply short shifted and went easy on the tyres and brakes to ensure Rob had a good car to finish the race. Even then, with a clear lap we were able to show the true pace of the BMW GTR," said Sharpe. Rob then took the car back for the final 9 laps to the chequered flag, showing his growing experience at the Nurburgring and lapping consistently. With mounting consistency, the team claimed their fourth race win of the VLN season.
Adam and Rob have now extended their lead in the drivers' class table and are looking for another good result on 12 October when they return for round 9.
Headlines: