Sharpe makes it another two wins in two weeks!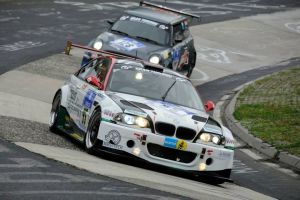 After wining the Championship outright in 2011, Adam took the opportunity to return to the Project 8 Racing Saloons series for their latest round at Oulton Park near Chester. Adam qualified on pole on the wet circuit by 1.4 seconds in his BMW M3, locally race-prepared by Steve Edwards at Jack's BMW Specialists in Taunton. The weekend then saw Adam bring home another race win after a nose-to-tail battle with Stephen Pearson in his rapid M3. "Without the ongoing support of Jack's Garage, I wouldn't have been able to return to Project 8 this season. The car worked faultlessly and I look forward to running in the series again this season', commented Sharpe.
Last weekend, Adam and the Green Recycling race team stormed to their second season win on the legendary Nurburgring in Germany following their tough 24 hour effort only a month ago. After a brand new e46 M3 GTR chassis had been built in just two weeks, Adam and the team battled against time to set up the car for the demanding Nordschleife circuit. Adam's team mate, Rob Smith, took the car out for qualifying and claimed the team another pole position in class. However, the new front bumper aero package pulled itself apart on the 180mph straights during Adam's qualifying stint later in the session. Working flat out, the team were able to get the repaired car into the race from the pit lane, though this put starting driver Adam last in the class by a full minute. After an hour and fifteen minutes, Adam battled his way from last in class to 3rd, when he handed over to Rob in a fantastic pit stop that won the team another place. This left Rob with the duties of taking the team from 2nd to 1st in his stint. After only a few laps, Rob crossed the line first in class and controlled the race to the flag. "Another class win at the Nurburgring puts us in contention for the class championship. However, we have another seven rounds and anything can happen at the Nurburgring!" said Sharpe.
The weekend was sadly marred by two motorsport fatalities. "This weekend, we had two fatalities in motorsport - one in the same race as us at the Nurburgring and another at the prestigious Le Mans 24 hours. Our thoughts are with the families, friends and teams involved", concluded Sharpe.
Headlines: